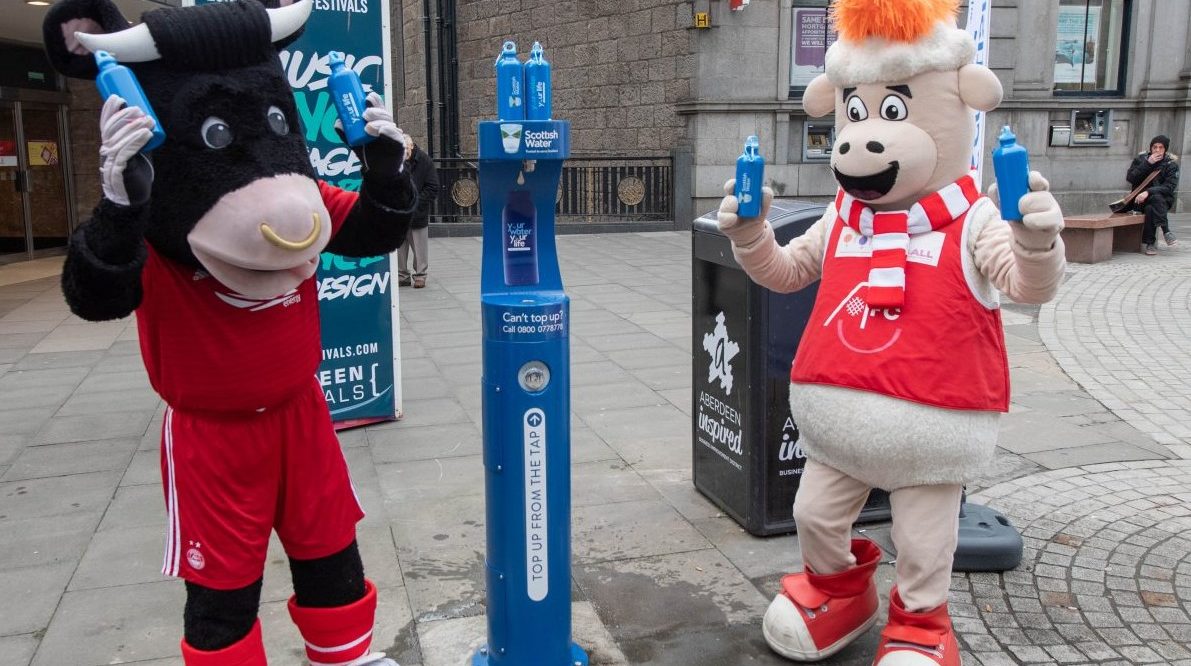 19th Aug 2019 by MIW Water Coolers
Aberdonians Can Now Top Up from the Tap
I've talked a lot recently, about how Wales is aiming to become the UK's first refill nation. But with all the work that MIW has been carrying out north of the border recently, Scotland can't be far behind! Now, increasing the ranks of the Celtic bottle fillers, Aberdeen's St Nicholas Street has acquired a 'top up tap' of its own.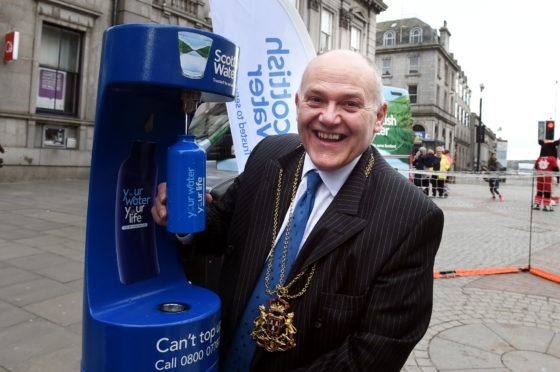 The new refill point in St Nicholas Street has been installed as a result of a collaboration between Scottish Water and Aberdeen Football Club Community Trust. Both organisations are committed to reducing waste plastic – of which single-use drinks bottles make up a significant percentage – as well as to supporting the communities they work with. The top up tap nicely helps with both objectives, providing the public with access to free drinking water while reducing the need for the purchase of plastic bottled drinks. And as MIW has been working with Scottish Water on other projects for some time now, they called on us again to help out in Aberdeen.
Aberdeen's Top Up Tap
According to Aberdeen Inspired, more than 2 million people visit Aberdeen city centre every month. While not all of them visit St Nicholas Street with a refillable drinks bottle in tow, that's still an enormous potential customer base for our refill point, so we had to be very careful in our recommendation.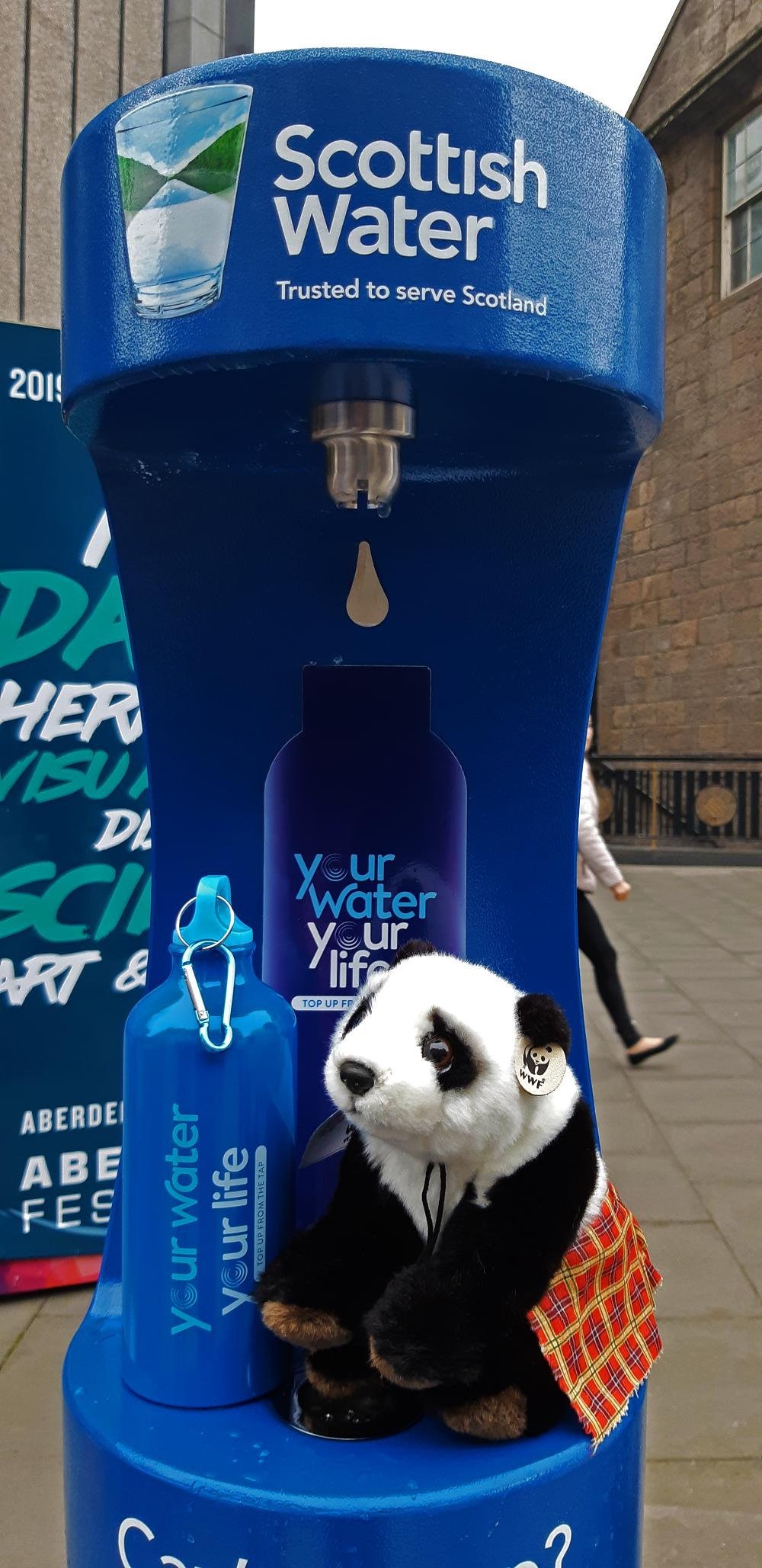 Aberdeen needed a bottle filler that was weather resistant, durable, and capable of withstanding the attention of vandals – just in case. But the unit also needed to be able to deliver a high volume of filtered water, require little maintenance, and be easy to use for as wide a number of people as possible. The Halsey Taylor Endura II fit the bill.
Capable of delivering a gallon of fresh, filtered water a minute, the Endura II has a simple one touch  operation, making it perfect for busy public spaces where hygiene could be compromised by multiple hands touching the dispensing areas. The body of the bottle filler is made from powder-coated marine-grade steel, so it will withstand anything the weather can throw at it. There are no external moving parts, offering little in the way of temptation for casual defacement.
It's wheelchair accessible, in line with the Equality Act (2010). And it requires very little care, other than the occasional strainer change. In other words, it's an all-round good-egg kind of public water dispenser!
But as well as the recommendation and installation of the perfect bottle filler, Aberdeen had one more job for MIW. Customisation.
Creating the Perfect Look
Part of MIW's work for Scottish Water has been to customise their bottle fillers prior to installation. As well as perfectly powder-coating the units in royal blue, we finished each of them with Scottish Water's logo and messaging, making sure they looked the part. We did this for Aberdeen too, Scottish Water also added a bottle counter to the refill point, so everyone involved will know just how much plastic they've been saving with the introduction of the top up tap.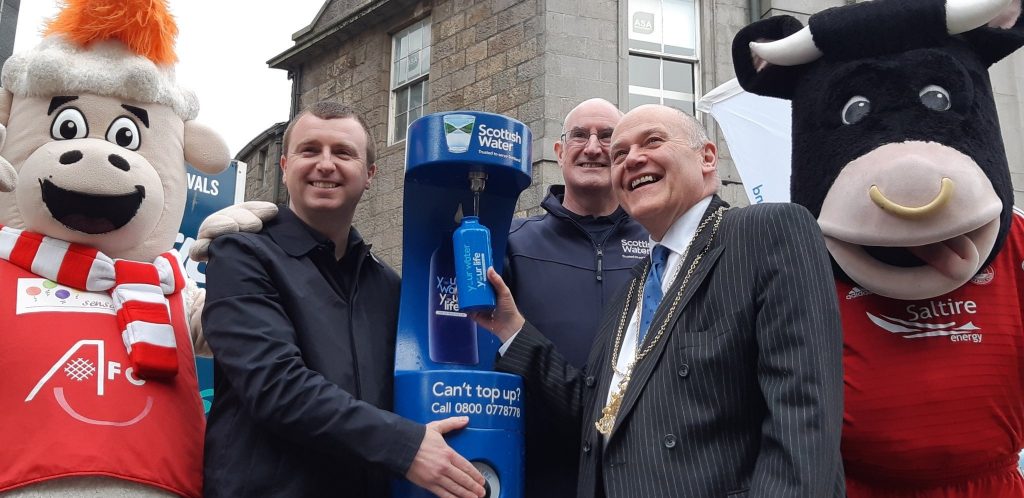 The move towards a refill culture seems to be truly underway now in the UK. Almost everyone is aware of the damage that waste plastic is doing to the environment. With that in mind, more and more of us are carrying reusable drinks bottles with us rather than buying disposable drinks as we go. But for this to become the norm, the infrastructure first needs to be in place. People need to be able to access drinking water everywhere if they're going to keep topping up. Cities like Aberdeen are slowly doing their bit. But there's still so much more to be done.