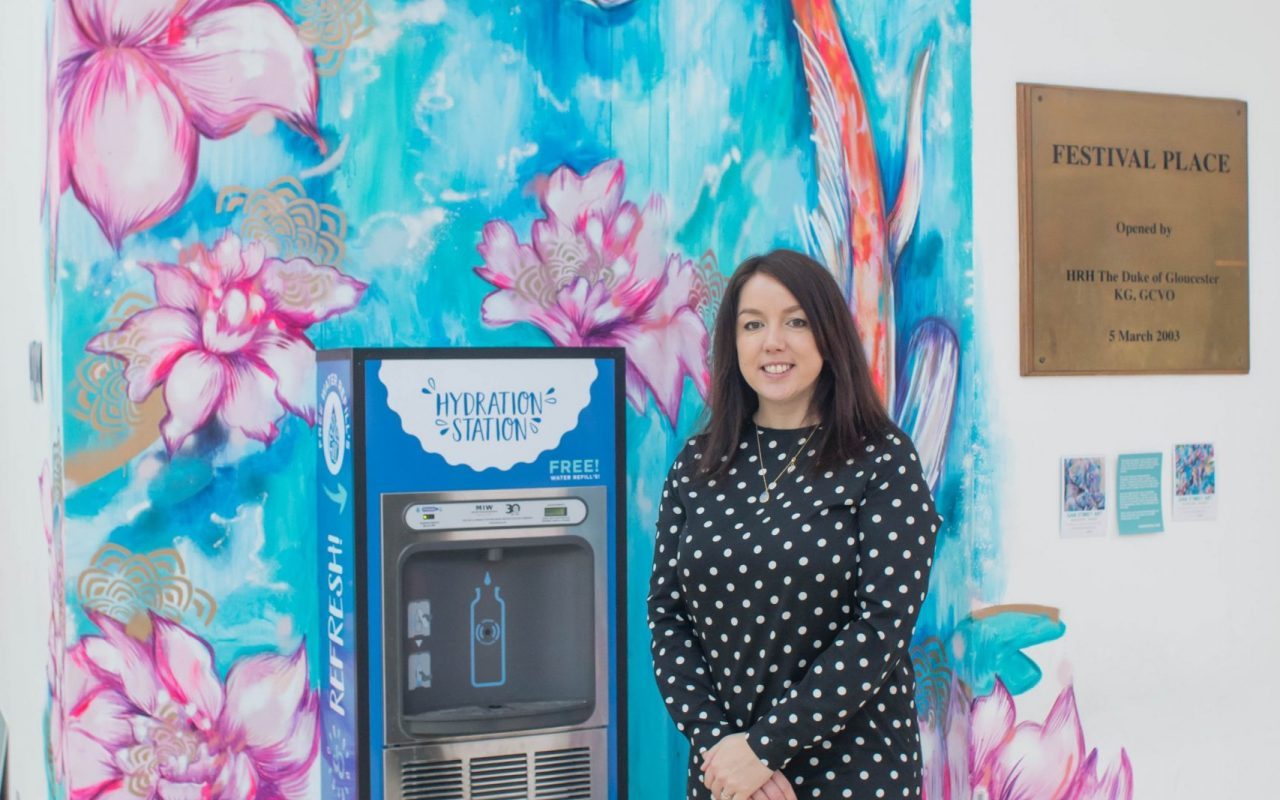 23rd Mar 2020 by MIW Water Coolers
But is it Art?! Form and Function Unite for Festival Place Shopping Centre's New Refill Point
We've worked in all sorts of locations during the last few years at MIW. We've installed bottle fillers and drinking fountains in castles and car parks from London to Lerwick. Some of the locations have been absolutely stunning. But never before have we worked with a bona fide work of art… Which is exactly what happened in Basingstoke when we were invited to install a refill point in Festival Place Shopping Centre.
Festival Place Shopping Centre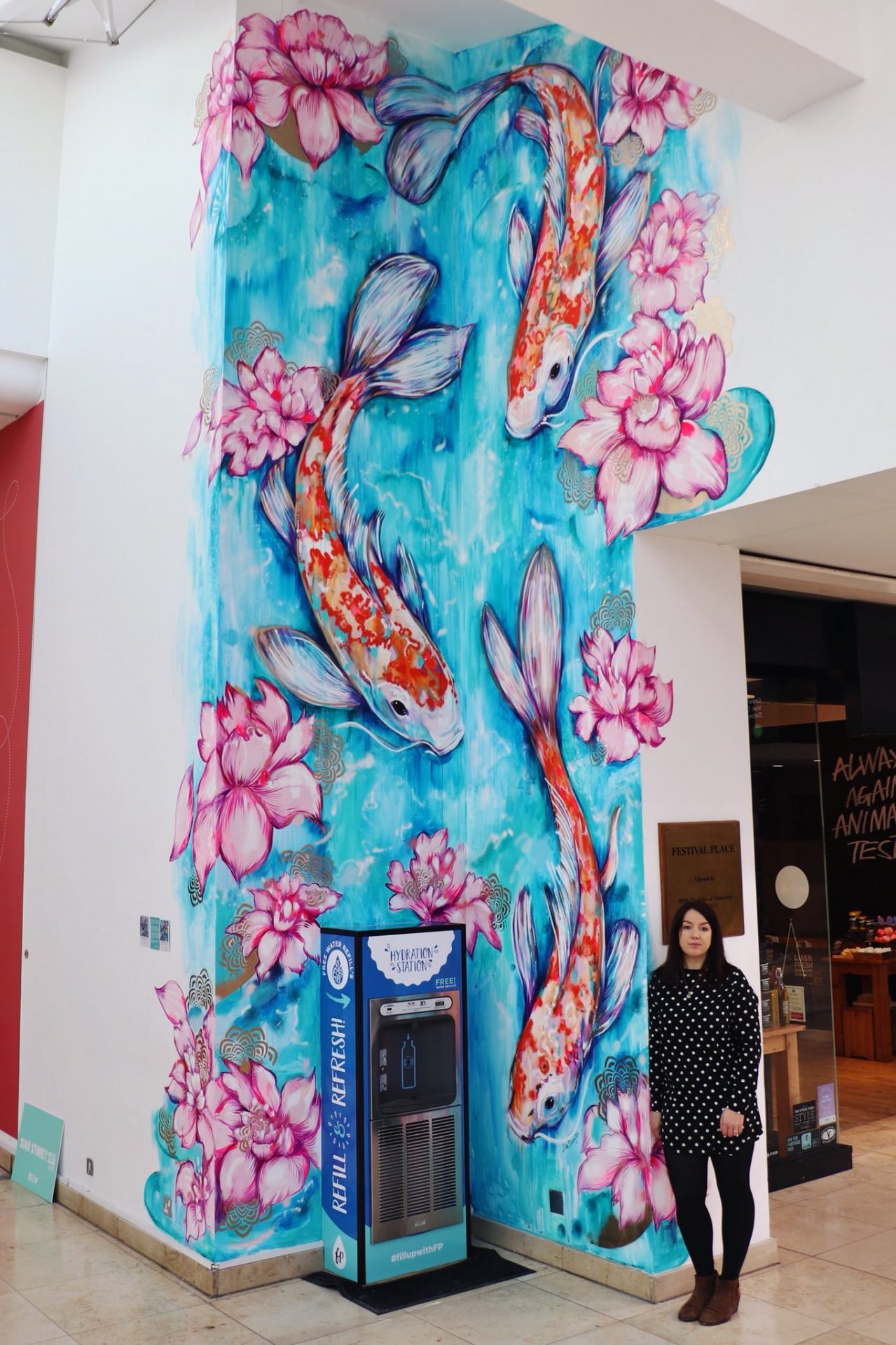 Attracting 22 million visitors a year, Festival Place is one of Hampshire's premium retail attractions. Despite being almost 20 years old, it is bright and vibrant. And that's partly because the centre's managers are working on a continual programme to improve and refresh the facilities. Following a recent sustainability drive, the team contacted MIW. Looking for ways to reduce the amount of single-use plastic produced on site, they wanted MIW to install a state-of-the-art refill point. But this was to be a refill point like no other, thanks to the involvement of local artist, Sian Storey.
Creating a splash about sustainability
Some clever thinking went on at Festival Place. The management team knew that, as a responsible organisation, they should be offering public drinking facilities that could help in the fight against waste plastic. But they also knew that if the endeavour was to be worthwhile, they would need to make any bottle filler or drinking fountain appealing. To that end, they commissioned talented Basingstoke artist, Sian Storey, to create a stunning – and really quite enormous – mural around the refill site.
At 6 metres high, it's the tallest piece of art that Sian has ever every worked on. Created from acrylic and spray paint, it depicts a glorious scene of serenity, with koi carp swimming through a cool blue lotus laden pond. And at its base sits MIW's own masterpiece – the Branded Eco-Dispenser HTHB-1500-80 – Chilled HydroBoost Bottle Filler.
The Festival Place bottle filler
Created specifically for the fast-paced retail environment, MIW's Eco-Dispenser works quickly, cleanly and efficiently, with no splash and no over-fill. It can fill up to 680 regular 500ml sports bottles with chilled, filtered water every hour. The hands-free sensor operation makes it incredibly hygienic and easy to use, whether or not you've got your hands full with shopping or kids. And the unit has been designed to allow for comfortable access for wheelchair users, as well as standing. Like all MIW products, the Eco-Dispenser range is WRAS approved, meaning that it has been certified safe and compliant with all water authority and UK Government guidelines. And it is GreenSpec™ listed for its low power consumption and low water waste. As a final benefit, the sturdy body build and security screwed cabinet make this unit vandal resistant, which is always a benefit in public spaces.
The Festival Place Shopping Centre bottle filler – and its spectacular setting – was revealed to the public on Blue Monday in January 2020. Prior to installation, MIW customised the Eco-Dispenser with the centre's branding, and a colour scheme that would complement Sian's mural. And we have to say, we're rather pleased with the overall effect.
So, next time that you're Basingstoke, why not pop into Festival Place and check out their swish new refill point? Come on now, there's no need to be koi…
You can find the Festival Place bottle filler on the ground floor, next to Lush.