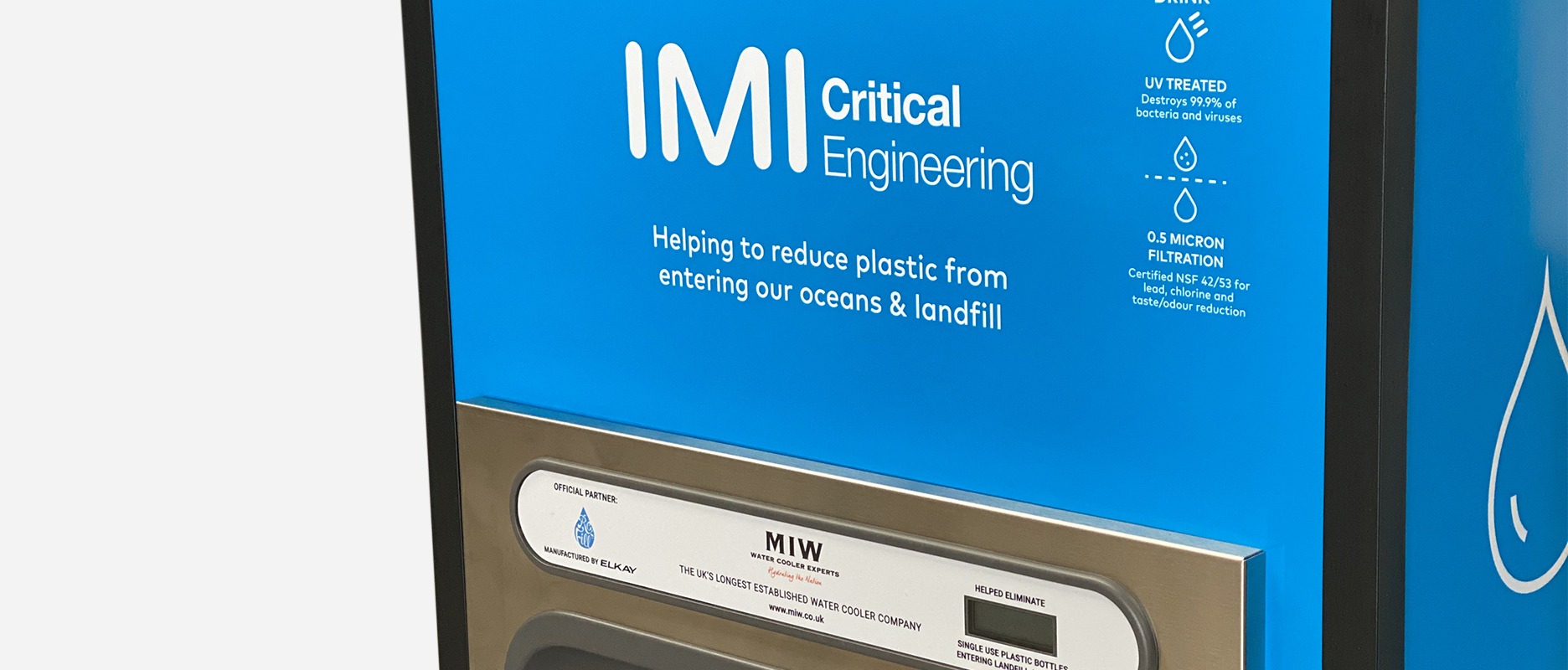 20th Apr 2021 by MIW Water Coolers
Genie[us] New Refill Point for IMI Precision Engineering
IMI Precision Engineering is a business with a strong reputation. Known for working with the world's leading industrial customers to solve difficult engineering challenges, the company has an eye for quality, detail and service. So, when looking for a new water dispenser solution for their factory, they naturally turned to MIW Water Cooler Experts!
MIW Puts Expertise to the Test with IMI Water Bottle Installation
IMI's refill requirements
IMI came to MIW with quite an unusual request. All the engineers on site habitually carry their own water bottles. They did not want any equipment that would necessitate the use of plastic cups on site, aware of the terrible environmental impact that can create. It was a problem easy enough to answer – MIW has a whole host of water bottle refill station available. But the difficulty here was that IMI required a bottle filler that could be installed in the middle of the factory floor. Not a unit that could be tucked away against a wall, or even wall-mounted. It needed to be totally free-standing… Something that is relatively common amongst outdoor bottle fillers, but less so in more sophisticated models. And the IMI team wanted anything but basic.
The project managers were looking for a free-standing contactless water dispenser capable of delivering a high volume of filtered, chilled water that was also quick and easy to use. And with nothing off-the-shelf available to fully answer the company's needs, it was down to MIW to come up with some clever customisation.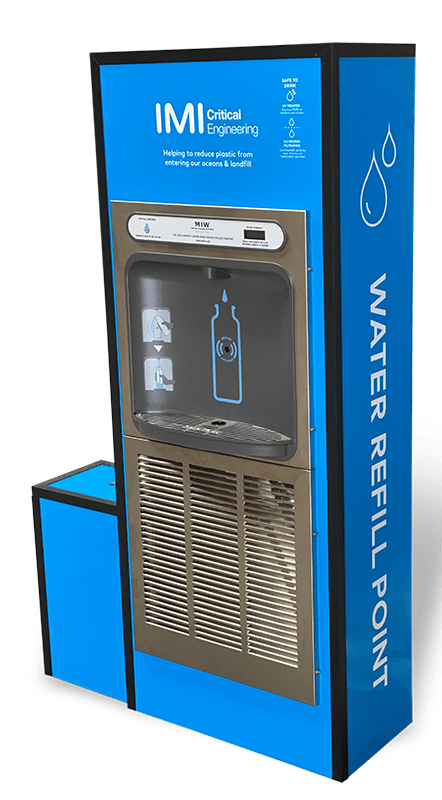 The MIW solution
Delivering a high capacity 80L per hour water chiller with UV filtration capable of destroying 99.99% of all waterborne bacteria, the Eco-UV Genie 1500-80 bottle filler answered most of IMI's technical requirements. WRAS approved, designed by MIW/Elkay and part manufactured by Elkay, the drinking fountain's touch-free activation make it both simple and safe to use in the Covid-19 environment. It is extremely high quality, and yet very easy to maintain. But there were two areas that still needed to be addressed. This unit is not designed to be free-standing. And the 10l waste water container had the potential to cause overflow hazards. MIW's technical team got to work and came up with the ultimate solution.
Having created a concealed back for the bottle filler, the team engineered a way to fix the unit securely to the factory floor. Then fitted an electronic sensor water shut off to the 10l waste container. Removing the risk of any overflows and the attendant danger of wet floors and slip hazards.
Prior to installation, MIW completed the unit with bespoke paintwork and messaging, and a protective lacquer for durability.
Helping more than just our clients
The IMI project was a fun one for the MIW team, because it presented us with a challenge. We really enjoy going that extra step further to get things right for our customers – that's why the IMI Precision Engineering team decided to work with us. It's always interesting to find new solutions. But every project brings its own satisfaction. Because as official Refill partners, we donate 10% of all our sales to the Refill project, which means that every job we complete does good for the planet as well as our customers. And that makes every job more worthwhile.
Finding a water cooler can feel difficult right now, with the added concern of Covid-19 on top of the standard technical requirements. But if you talk to the experts, a solution can always be found. It just requires a little ingenuity!
Get in touch to find out how MIW Water Cooler Experts can help your business find the right water cooler solution.