2nd Mar 2020 by MIW Water Coolers
MIW Helps The Mall in Wood Green Join The Refill Movement
The Mall is one of the largest owners of community shopping centres in the UK. Boasting premises in five different areas and hosting hundreds of shops, it serves millions of customers every year. And among the chain's busiest venues is Wood Green. The 540,000 sq.ft. shopping centre attracts almost 200,000 visitors on a weekly basis. And now they have a brand-new facility to enjoy: a water bottle refill station.
Joining in with the sustainability movement, The Mall stores has asked MIW to assist in a plan to install refill points across its network. And Wood Green is the first to benefit.
The Wood Green Mall bottle filler
Like most of MIW's other shopping centre clients, the main priorities for The Mall management team were finding a bottle filler that was easy to use, wheelchair accessible, able to cope with a high degree of usage and vandal resistant. The water dispenser also needed to meet all water authority and Government health and safety standards, and ideally provide chilled water.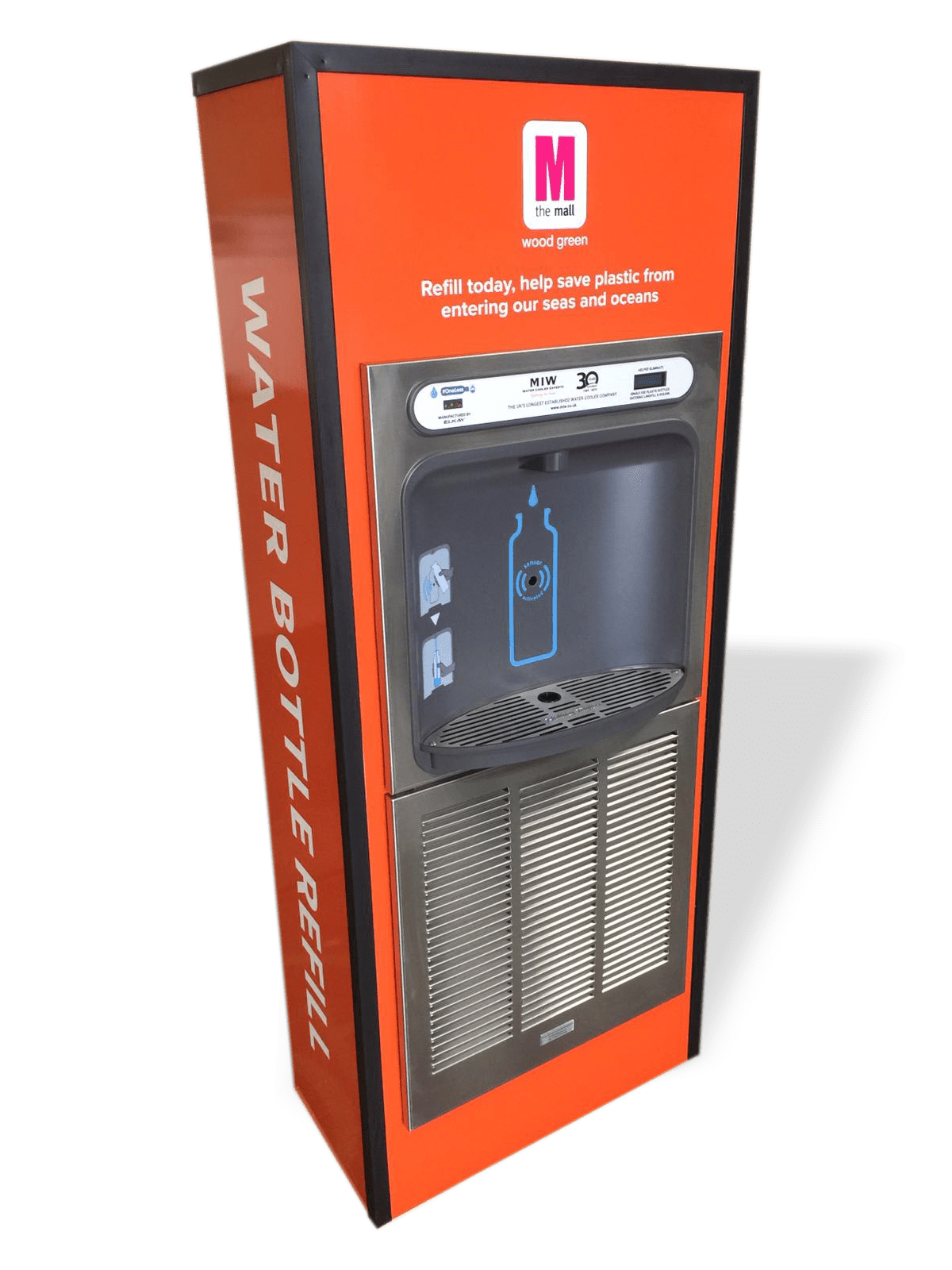 MIW recommended the Eco-Dispenser HTHB-1500-80 – Chilled HydroBoost Bottle Filler. WRAS-approved, the Eco-Dispenser automatically complies with all health and safety regulations. Its simple, sensor-operated interface makes it incredibly easy to use, allowing for hands-free operation where required. It has no external moving parts, which makes it both difficult to damage and easy to maintain. And its rapid refill and chill rate makes it the perfect choice for high footfall areas, such as shopping centres. As an added bonus, the unit is GreenSpec™ listed, because despite its high functionality, it actually uses very little energy and has systems in place to ensure that as little water as possible is wasted too.
To encourage as many users as possible, MIW customised the Eco-Dispenser prior to installation at Wood Green. Adding branded facias complete with The Mall's messaging, the unit really looks the part. And will hopefully catch the attention of everyone who passes through the Mall.
The Mall's green movement
The motive behind The Mall's bottle filler move is much the same as every other conscientious organisation just now: to provide customers with easy hydration and help reduce single-use plastic bottles on site.
Despite the fact that the plastic waste crisis has been in the news for a couple of years now, it is still making headlines on an almost daily basis. A recent study has revealed that plastic pollution has killed half a million hermit crabs. And at home, seal pups have been strangled by plastic waste. It's a problem that just isn't going away and the need for action is growing. That's why it's so important for companies like The Mall to provide plastic alternatives for customers. They can't offer everything. There aren't substitutes for all the different plastic products available. But offering free drinking water as an alternative to buying yet more plastic-bottled drinks is a really strong start.
Could shopping centres make a real difference?
And it's a start that many other shopping centre management teams are taking. MIW is already working with Intu, Highcross, Festival Place and Bon Accord, among others. And it's that that really could make the difference. Because Britain's shopping centres serve millions of customers every single day. And if they all supplied bottle fillers – and we all started using them – the impact on our environment could be, would be, enormous.