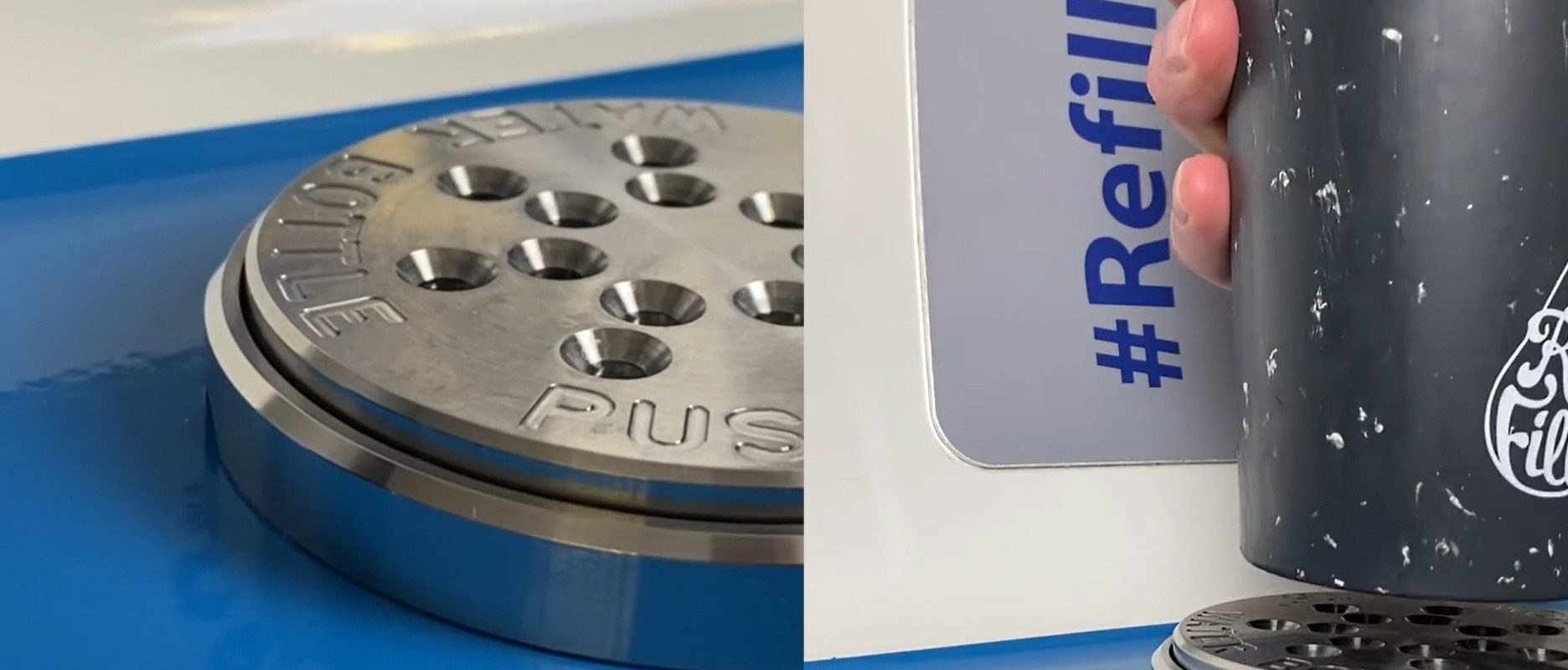 8th Mar 2021 by MIW Water Coolers
MIW Pushes the Button on Ingenuity with New Contact-Free Conversion Kit for Bottle Fillers
The last year has thrown up many frustrations for businesses. We wouldn't even know where to start if we wanted to list them all. But from MIW's point of view, the necessary decommissioning of push button activated drinking fountains has featured high. That's why we' are investing time designing and manufacturing our very own solution to the problem. Introducing the new MIW Push Activation System for Elkay. We hope to have this product available very shortly, but for now please register your interest at sales@miw.co.uk
The problem with push button bottle fillers
Just as the UK really began to take the waste plastic problem seriously and build a national network of public bottle fillers, along came COVID-19 and stopped progress in its tracks. The contact contamination risk associated with push button bottle fillers was just too high. And we can't argue with the decision to mothball all units up and down the country until such a time that the UK – the world – can breathe easy once more. But that leaves the refill movement dead in the water. And it leaves businesses and organisations with wasted investment.
Quality outdoor bottle fillers are too good to be sent to the scrap heap. That's why we've worked so hard to find a solution. And we're delighted to announce that it is now available.
The contact-free solution to push button bottle fillers
Designed and made in the UK, the MIW Push Activation System for Elkay has been created to help businesses reinstate their outdoor bottle fillers. Delivering contact-free activation, any converted water dispensers will now be safe to use, without risk of becoming a COVID-contamination point.
The device works by replacing the bottle filler's existing drainage plate with a compressible refill platform. Users simply need to press their bottle down upon the platform and water will be released. As soon as they stop pressing, the water will cease to flow, and they can remove their bottle. With inbuilt drainage to prevent any build-up of water, the new interface does not impact any other aspect of the bottle filler. And push button operation is still available for use post-pandemic.
Precision engineered from stainless steel, using 21 inner parts – some moving – the Push Activation System has been designed to operate a regulator valve, working without need for any additional power. No batteries. No electricity. Which is always a boon for the environment. It is vandal resistant and tamper-proof, and it has no need of servicing. So, once installed, the unit has no attendant costs.
Where can the MIW Push Activation System for Elkay be used?
MIW's contact-free bottle filler conversion kit has been designed to fit Halsey Taylor and Elkay outdoor drinking fountains. We selected Elkay's popular outdoor bottle filler range for the conversion kit project because they are the industry leader in the UK and widely used around Europe and the wider world, including by the UK's water authorities. Thames Water, Welsh Water and Scottish Water all selected Elkay bottle fillers for their respective refill projects. This means that the conversion kit has the potential to help the highest number of businesses and organisations looking for ways to recommission their equipment.
The thing about problems is that a solution can usually be found. It's not always immediate. It's not always easy. But it will be there somewhere, if you look hard enough. And that's what we've done with the MIW Push Activation System for Elkay. Hopefully, it will remove at least one of the problems from your Covid-created list.