9th Dec 2019 by MIW Water Coolers
Seven New Water Dispensers Land in Heathrow's Terminal 4
MIW first began working with Heathrow in 2017. Installing 15 bottle fillers and drinking fountains across the airport, our remit was to help enhance the site's sustainability while providing a much-wanted service for passengers. The aim at that point was to see what impact the water dispensers might have – whether they'd be used enough to justify their presence. And whether they really would help to reduce the amount of waste plastic bottles removed from the airport's many departure lounges.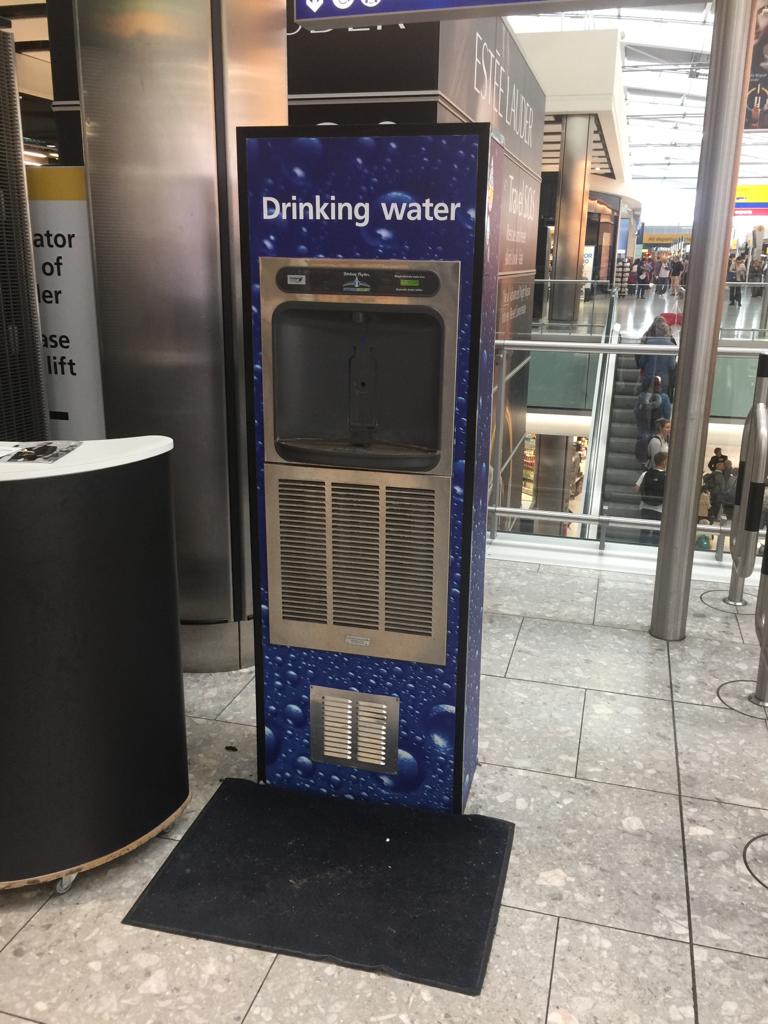 Two years on, it seems that the answer to both those queries is 'yes'. Because just a few months ago, MIW was contracted to install a further seven bottle filling stations with inbuilt drinking fountains in Heathrow's Terminal 4.
Heathrow's new bottle fillers
As you might imagine, airports have pretty stringent requirements for any piece of equipment installed on site. They're not just looking at the way the equipment functions, but any security risks they might present. That does bestow additional challenges when it comes to apparatus selection. But we're old hands at this now, so the MIW team knew exactly which bottle fillers to recommend for Terminal 4.
The Halsey-Taylor Hydroboost Wall-Mounted Bottle Filler and Drinking Fountain Combination unit was one of the first pieces of equipment that came to mind for Heathrow. And is what was eventually selected for installation. Why?
Firstly, the wall mounting completely removes the possibility for the discreet depositing of suspect packages (we also supply free-standing units with bespoke security shelves, where required). There's absolutely nowhere to hide anything on this sleek machine. Even the sides are sealed with security screws. So, that's the primary concern dealt with.
From there, we needed a unit that was WRAS-approved to ensure the highest health and safety standards were adhered to. But as we only deal in WRAS-approved equipment, that wasn't a problem either.
Next, we were looking for:
Wheelchair accessibility
Ease of use – without need for written instructions to accommodate the thousands of languages that pass through the airport
Inbuilt cooling system
Filtering for the best water quality
And Greenspec™ listing to fit in with the airport's sustainability programme
The Hydroboost delivered all of these. So, the MIW team got to work on installation.
Why Terminal 4 invested in new drinking facilities
Heathrow's Terminal 4 is home to 34 airlines and handles approximately 9.5 million passengers every year. The people passing through are busy, excited and often stressed. Hydration is important when flying. But passengers can't carry bottles of water beyond security. So, before the b
ottle fillers and drinking fountains were installed, they would have add to their expenses with highly priced plastic bottled drinks from the departure area's shops and cafes.
With the new water dispensers in place, passengers can bring an empty bottle to top up once they're through security. Or simply drink directly from the fountains. This saves passengers money and helps to reduce the amount of waste plastic generated by the airport.
With the continued focus on the problem of plastic waste and the impact it's having on the environment, there is an ever-growing public demand for refill sites. Airport passengers are pretty much a captive audience. Sites like Heathrow don't have to provide free drinking facilities. They could just continue as they were and rake in the cash of thirsty travellers. But they're not. For Heathrow – and other likeminded airports – to be looking at the wider issues is a very good thing indeed. And at MIW, we're very proud to be helping them.
Heathrow Terminal 4's new public water dispensers can be found next to the toilets in the Check In zone, Gate 7, 21, 23, Arrivals, Baggage Reclaim, and near the accessible toilets at Gate 5b.