18th Dec 2020 by MIW Water Coolers
Guernsey Water Create a Splash with New Public Drinking Fountains
It's been a long time in the planning, with various permits being sought. But in 2021, Guernsey Water joined the Refill movement. Working with Refill.org,uk and MIW Water Cooler Experts (Refill's official water fountain partner), the water authority was finally able to install its long-awaited bottle fillers. And we were delighted to help make sure that everything went well on the day.

Why the Refill movement matters to Guernsey
Being just 69km² in size, with a massive 47km (29 miles) of coastline, the residents of Guernsey know all about the sea. Its beauty. Its dangers. And the threats that it is facing from pollution. The island's conservation groups work hard to keep Guernsey's beaches amongst the cleanest in the British Isles. There's even a Coastal Clean Up app available for islanders to use. But even still, in 2018, a newspaper had cause to refer to one of Guernsey's beaches as the 'world's dustbin, full of plastic waste from 7,000 miles away.' That's why the Refill movement matters to Guernsey. And that's why, Guernsey Water has been working to bring public bottle fillers and drinking fountains to the island.

Guernsey's new drinking fountains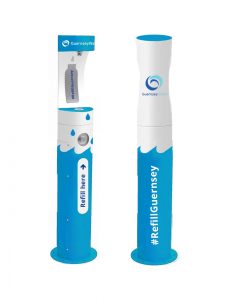 When Guernsey Water approached MIW, the team were looking for advice. They needed to know where to site the planned drinking fountains. And, importantly, they needed guidance about which models would be suited to the potentially exposed locations they had in mind. Given that the aim was to persuade as many people as possible to reuse plastic drinks bottles rather than throwing them away, and that any equipment would need to be able to withstand exposure to the damp, sea salt laden air, we recommended a selection of Elkay water fountains.
The Elkay EZH20 bottle filling series has been designed specifically for exposed outdoor locations. Constructed from heavy-duty marine-grade stainless steel, they are not only weatherproof, but vandal resistant. And manufactured using 75% recycled materials, with integrated water-saving features, the units make a fantastic choice for any organisation concerned about sustainability. They're also easy to use – which is important. And very low maintenance.
Additionally, all of the Elkay water fountains that we work with are WRAS (Water Regulations Advisory Scheme) approved. This means that they are guaranteed compliant with all UK water authority standards.

A bespoke service
Because the Elkay drinking fountains were intended as part of a wider project by Guernsey Water, they asked MIW to customise the bottle fillers with their bespoke paintwork and branding – which we designed and finished by hand. We also added in additional freeze protection, to make sure that the dispensers remain functional all year round.
During the course of the last few years, MIW has worked with numerous water authorities. Some projects, like those for  , have been sizable and ongoing. Others, like Wessex Water, have started small and returned to us time after time as budgets have become available. But the one uniting feature shared by all of these organisations is a desire to do good. They don't have to install these new public facilities. No one is making them. They're doing it because, like us, they believe that there is too much waste plastic in the world. And that we should all be doing something about it. And that gives me hope for a brighter, cleaner, plastic-free future.