14th Oct 2019 by MIW Water Coolers
Intu Shopping: Into Sustainability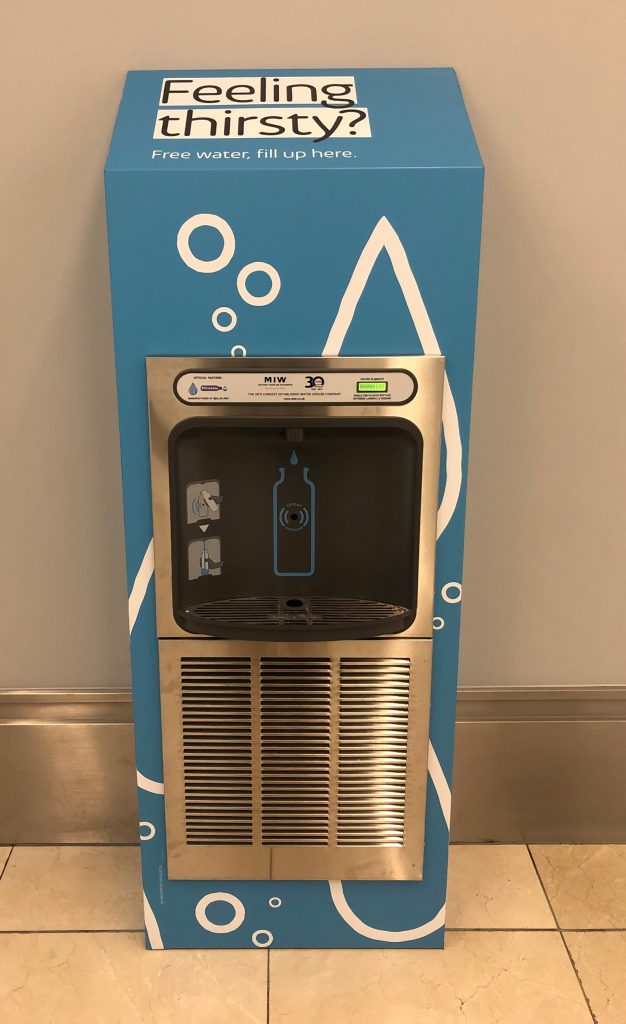 Intu shopping centre, Derby, gains a new public bottle filler.
With two levels, 150 shops and an annual footfall of 22 million, Derby's Intu shopping centre can easily claim to be one of the city's prime attractions. From fashion and food to entertainment and travel, it offers something for everyone. And now it has a little something extra up its copious sleeve: free drinking water for customers.
Intu sustainability
Earlier this year, Intu contacted MIW Water Cooler Experts looking for advice. As the owners of seventeen of the UK's destination shopping centres, the company were looking for ways to enhance their sustainability and social responsibility programmes. Well aware of the issues surrounding waste plastic, the management team wanted to help reduce the amount of waste produced in their sites. Other steps were being taken at a national level, such as the phasing out of plastic bags, but single-use drinks bottles remained a problem. Using the Derby Intu shopping centre as a pilot, they wanted MIW to find a bottle filler capable of serving its enormous number of visitors. Of course, we were happy to help.
Intu free drinking water
As well having a potentially epic number of drinkers to sate, any bottle filler that went into Intu Derby would need to meet a pretty hefty criteria. Robust design was a must to withstand the passing public.Simple interface was required in order to encourage as much use as possible. It needed to be extremely hygienic and low-maintenance. And it needed to be public facing, so that users could see the good they are doing by refilling rather than repurchasing. Luckily, we knew just the machine for the job.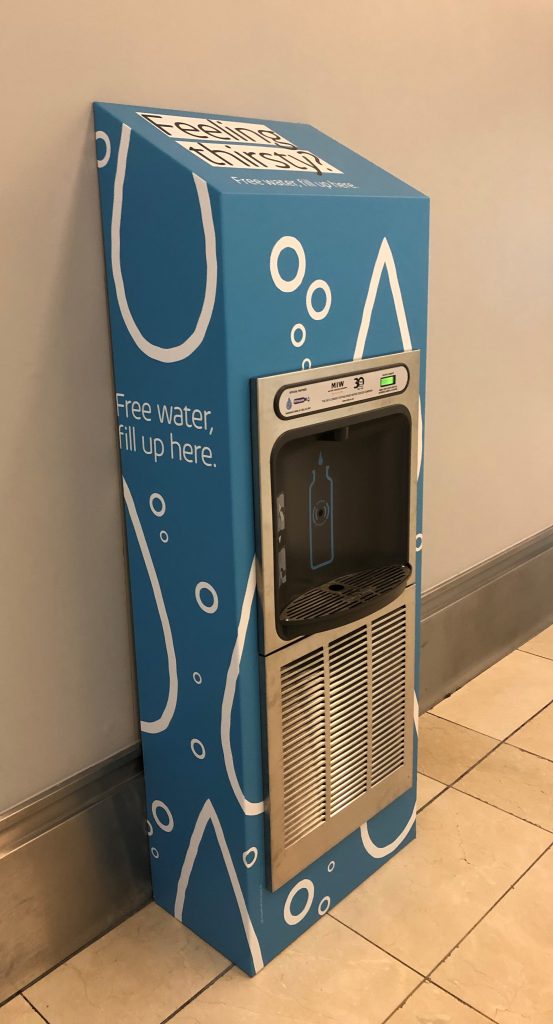 The Eco Dispenser Max UV Superchill is more than just a mouthful to say. It's fast, capable of processing up to 80 litres of chilled water per hour. An inbuilt LED UV sterilisation system works to eliminate 99.99% of bacteria and viruses in the water. The exterior has a clean, wipe-free finish. And hands-free operation makes it accessible to as wide a number of users as possible. It's also WRAS-approved, as all the bottle fillers MIW works with are, ensuring that it is entirely safe and compliant with all regulatory standards. And with the filter, UV sterilisation and chilling system, the bottle filler delivers some of the best-tasting water around – perfect for drawing in the crowds.
Intu's Derby bottle filler has gone into the shopping centre on a trial basis. The aim is to find out whether it is wanted, used and makes a difference. If the public support the move, Intu will be rolling out the idea across its network of shopping centres. With hundreds of millions of people visiting the Intu network annually, this could be a wonderful thing. Bringing new, free-to-use facilities to the public. And making a significant impact on the environment.
So, if you'd like Derby to keep its latest bottle filler – and encourage sustainability across the country – you know what to do. It's time to get Intu it!