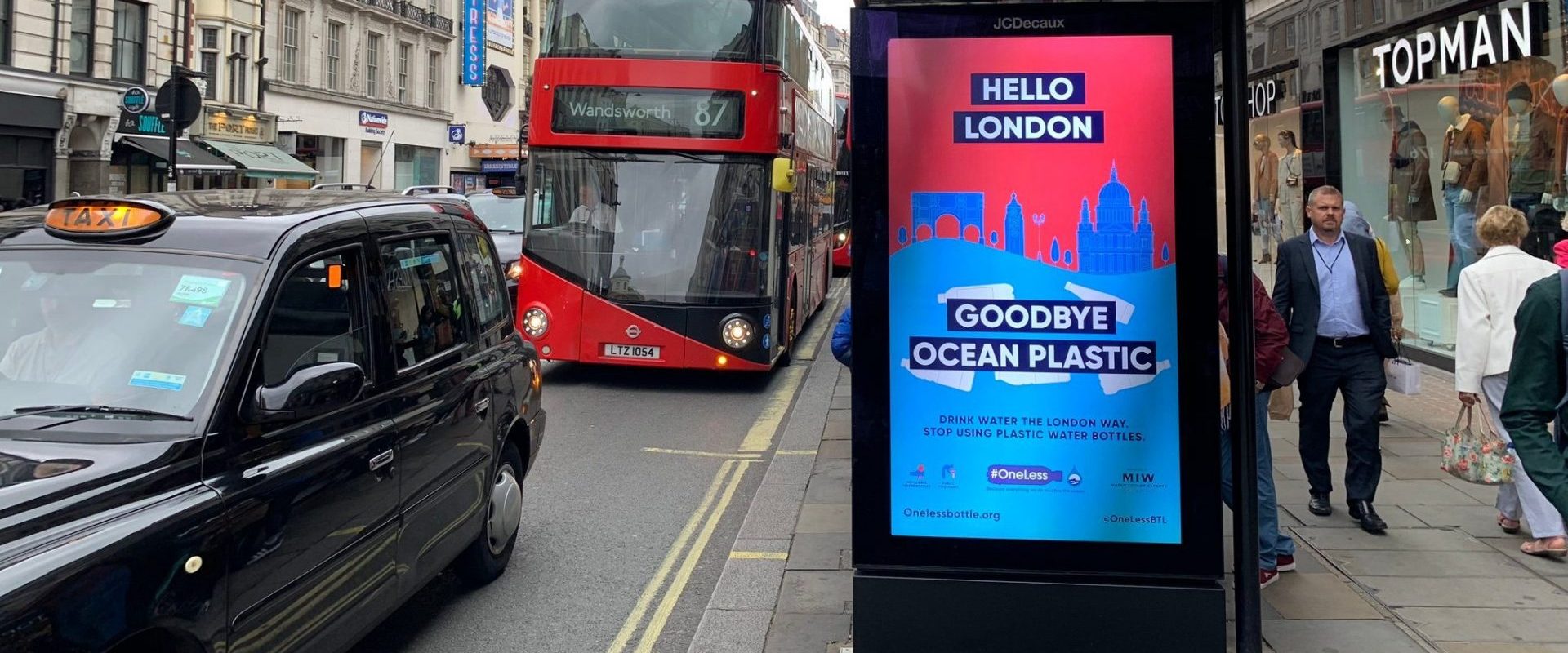 20th Feb 2020 by MIW Water Coolers
MIW and Global Partner Elkay Proud to Sponsor The #OneLess Hello London Campaign
If you're at all familiar with the work of MIW Water Cooler Experts (and we hope you are!), you'll probably already be aware of our commitment to the #OneLess campaign.
MIW and #OneLess
Back in 2017, MIW became stakeholders in the original #OneLess movement. It was a campaign devised to help tackle ocean plastic waste, one bottle at a time. Concentrating on London, as the most populous part of the country, and therefore with the greatest potential to create a difference, #OneLess sought to fund strategies that could trigger change. The focus being to create a refill culture, which moved away from the prevalent disposable mindset.
But that was just the first phase of an ongoing project. And it's a project that MIW is committed to continuing to support.
#OneLess Hello London, MIW and Elkay
Once the bottle fillers were in place – triggering further projects around London, including a collaboration between the London Mayor's Office and Thames Water, which MIW implemented – the next phase of the project was to get Londoners and visitors to the city involved. Cue #HelloLondon.
Throughout summer 2019, #OneLess worked in collaboration with London's leading tourist attractions and events to showcase the alternatives to buying plastic bottled water. The multi-platform campaign reached an estimated 5 million people, with a total 9 million impressions from signage and 26 million impressions on social media. And both MIW and our global partner, Elkay, participated in this. In fact, the bottle filler we installed at the Tate Modern as part of the #HelloLondon campaign dispensed the equivalent of over 50,000 (500ml) bottle refills within the four months of summer that the programme ran. To say that we're proud would be an understatement. (The bottle filler is still in situ if you wish to add to that number).
From little acorns mighty oaks do grow. And research following the #HelloLondon campaign has shown that to be the case here. With Londoners who saw the advertising campaign now being 30% more likely to use public drinking fountains in the future and 34% more likely to stop using single-use plastic water bottles. And that is an amazing result for just four short months of active crusading.
The global waste plastic problem isn't going anywhere fast. And it won't unless we all work together to both stop using single-use plastics and find alternative solutions. And as long as that remains the case, MIW Water Cooler Experts will continue to be proud supporters of the #OneLess Campaign. We can't wait to see where the next leg of the project will take us.