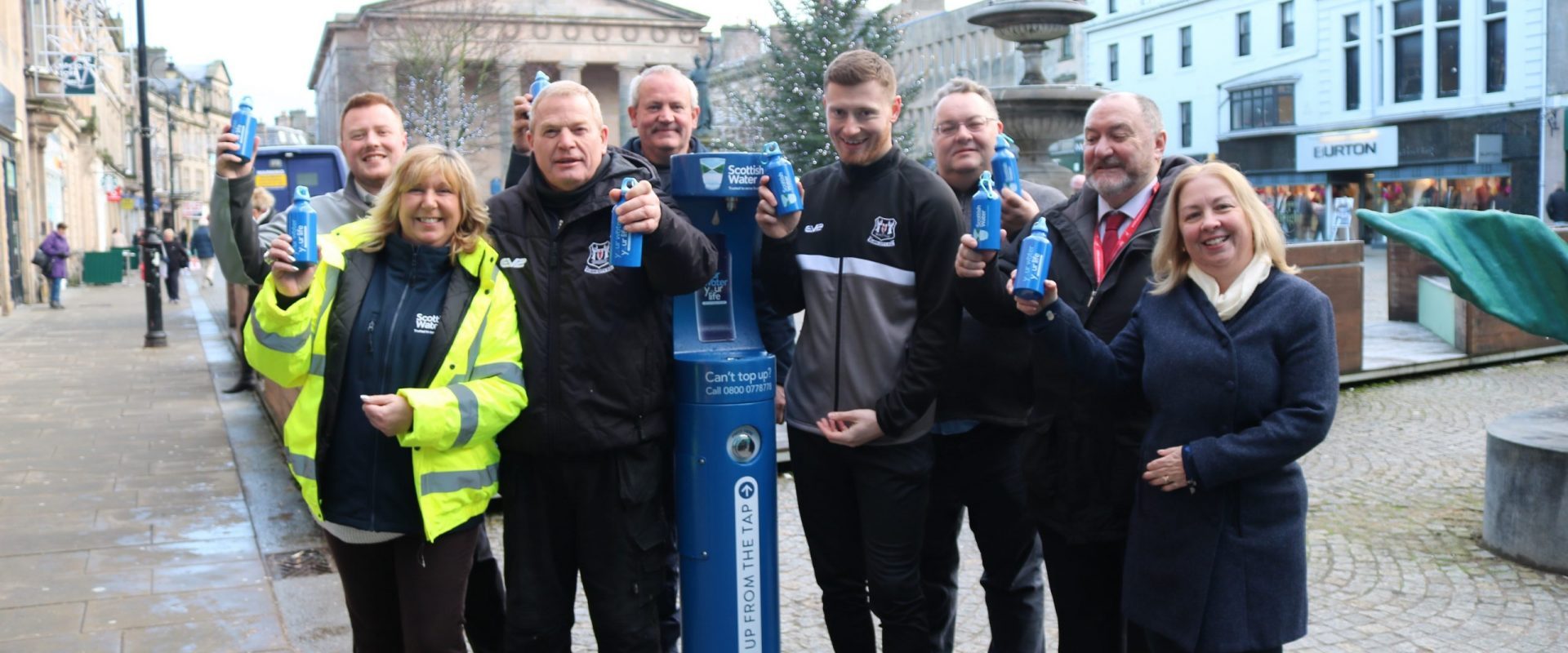 19th Mar 2020 by MIW Water Coolers
Scottish Water Marks the First Full Year of Top Up Taps
2019 was a big year for Scottish Water. The previous year, the water authority announced a plan to bring free public drinking water to the streets of Scotland. It was part of a drive to both tackle waste plastic and encourage a healthier lifestyle in the country's residents. And involved a project that would eventually see a network of bottle fillers spanning Scotland. The project managers commissioned MIW Water Cooler Experts to implement the installations. And we spent 2019 tackling new sites as they arose. In December, we took the year's total installations up to 18 with new Top Up Taps in Kirkwall and Elgin. So, what has Scottish Water achieved in its first full year as a refill pioneer?
Scottish Water's Your Water, Your Life campaign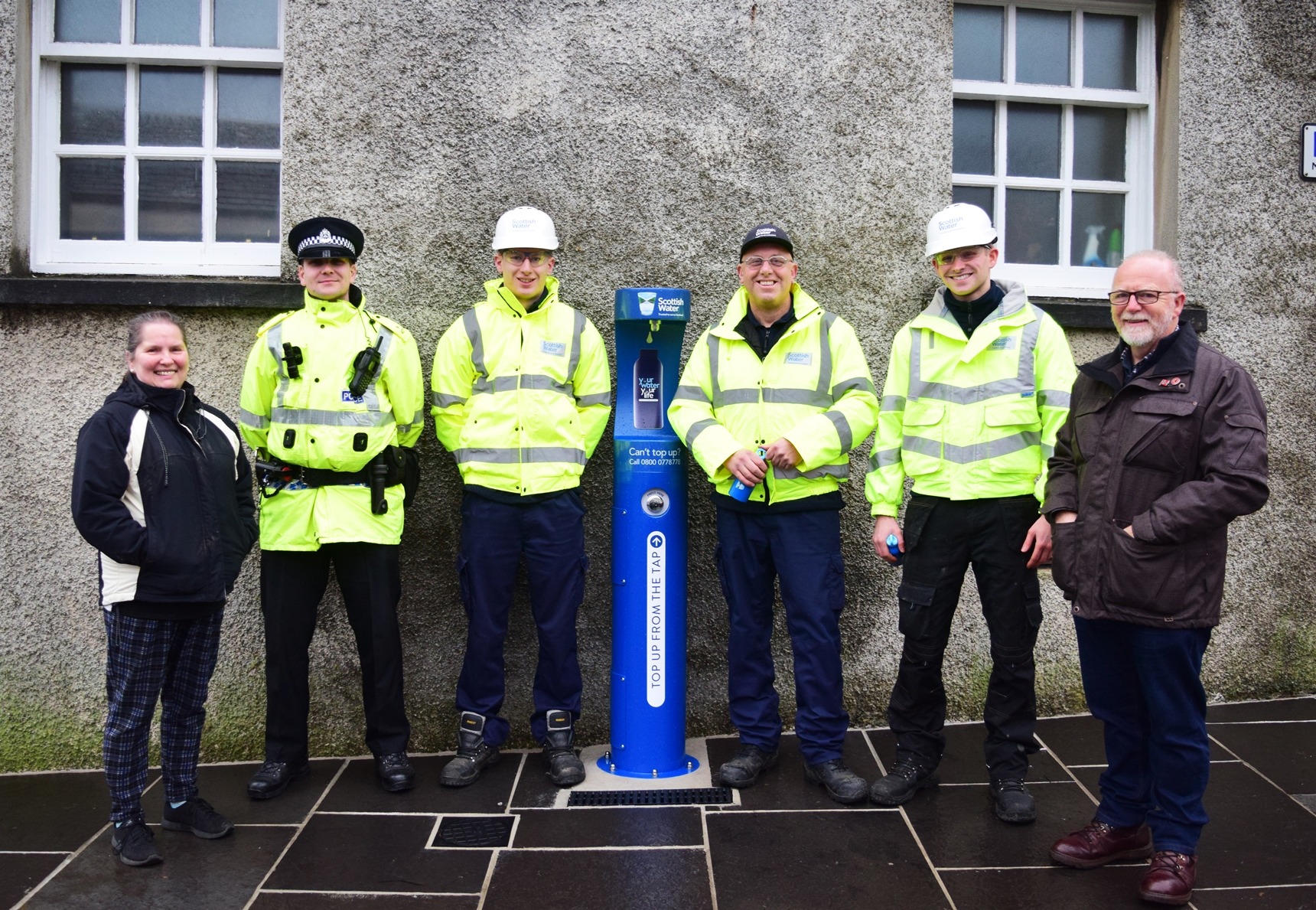 Scottish Water's Your Water, Your Life campaign revolves around two imperatives:
Encouraging more people to stay hydrated through the use of refillable bottles and tap water. Thus, saving money and cutting back on unhealthy sugary drinks.
And helping to protect the local – and wider – environment by reducing the amount of waste plastic.
The project began with the installation of a single bottle refill station in Edinburgh in October 2018. Positioned just outside the Scottish Parliament, the bottle filler was selected to test the water of public opinion. If the unit was used, many more would be installed…
Before the end of the year, the green light was given for a full scale roll out. And in 2019, the work truly began.
What has the Your Water, Your Life campaign achieved so far?

In the space of 12 months, extensive research was undertaken by Scottish Water's project management team. And with the help of MIW, they identified 35 suitable refill sites, as diverse as inner-city Glasgow and the end of the West Highland Way.
18 Halsey Taylor 4400BF – Endura II Tubular Outdoor Bottle Filling Stations were customised and installed by MIW during the same period. And a timetable drawn up to schedule a further 17 installations.
In the year following the first Top Up Tap installation, the units dispensed more than 40,000 litres of water. That's the equivalent of 120,000 standard 330ml single-use plastic bottles. And only one of the bottle fillers had been online for the whole of that time. Some had merely been installed for days.
And the response to the campaign has been so enormously positive so far, that Scottish Water have again extended the project. The new aim is to bring the total number of Top Up Taps to 70 during the next 18 months.
That's pretty impressive for just one year's work. And there's so much more to come.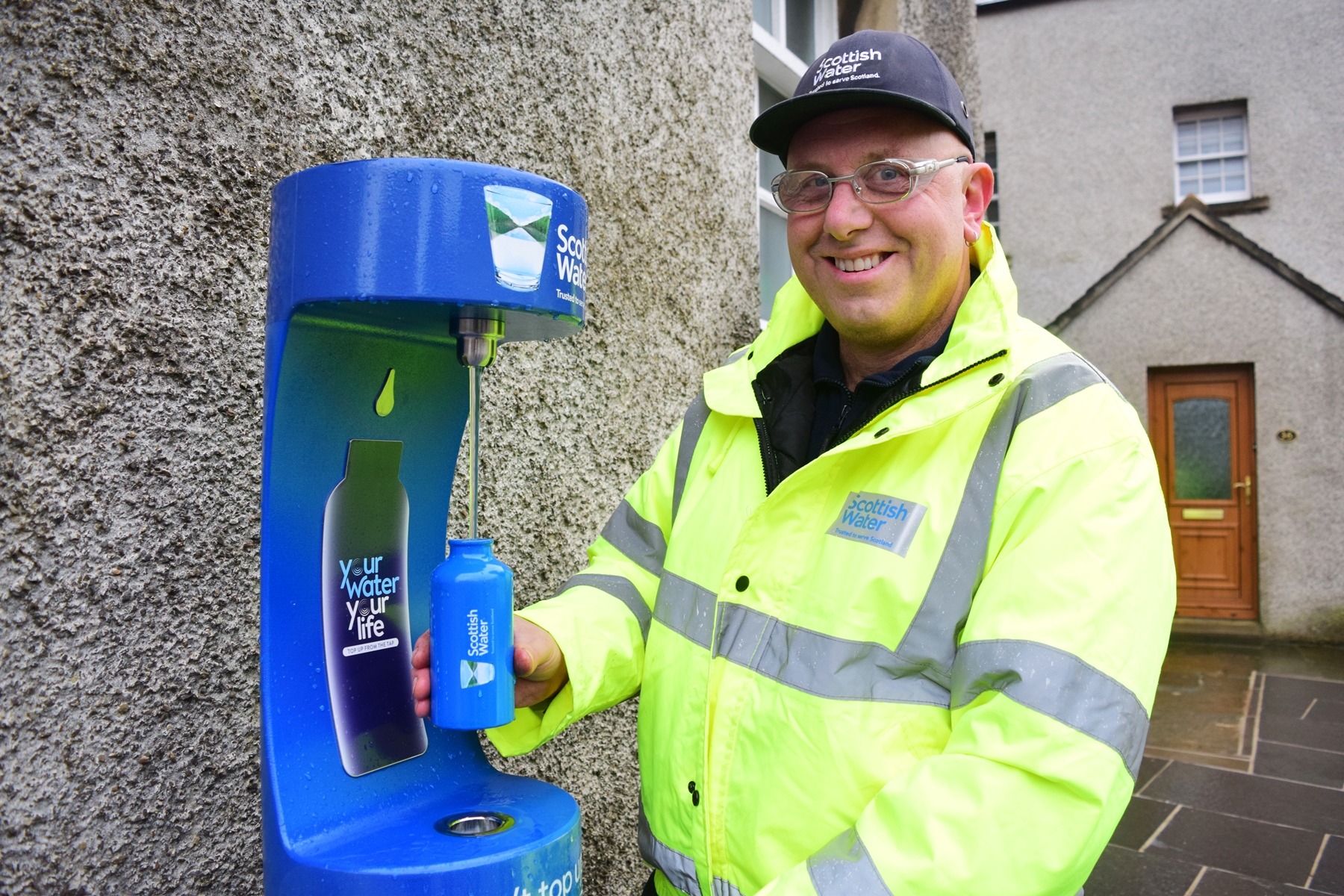 Scottish Water's Top Up Taps
When you're working on any installation, it's important to get the equipment right. For a largescale installation, it's doubly so. Scottish Water came to MIW with a number of requirements for their Top Up Taps. They needed to be durable, vandal resistant and easy to use. Outdoor rating was essential, but they would need more than that too, with many likely facing the most extreme weather conditions the UK experiences. Oh, and the bottle fillers also – obviously – needed to comply with Scottish Water's stringent health and safety guidelines.
Taking all of these factors into consideration, MIW recommended the Halsey Taylor 4400BF – Endura II Tubular Outdoor Bottle Filling Station. It's WRAS approved, so it automatically complies with Scottish Water's standards. And it answers every one of the other essential criteria. Added to that, it's easily customisable. Prior to installation, we've been able to finish each unit with Scottish Water's bespoke branding and messaging. And, where necessary, we've been able to upgrade the units with additional freeze packs, preparing them for the harsh Scottish winters to come.
Elgin and Kirkwall received the 17th and 18th of Scottish Water's Top Up Taps just in time for Christmas 2019. Since then, MIW has taken care of half a dozen more installations. Scottish Water's refill network is growing apace. And we're so proud to be playing a part in that.
You can find Kirkwall's Top Up tap in the town centre, at the junction of Broad Street and Palace Road near to the main entrance of St Magnus Cathedral.
Elgin's bottle filler is located in the High Street.