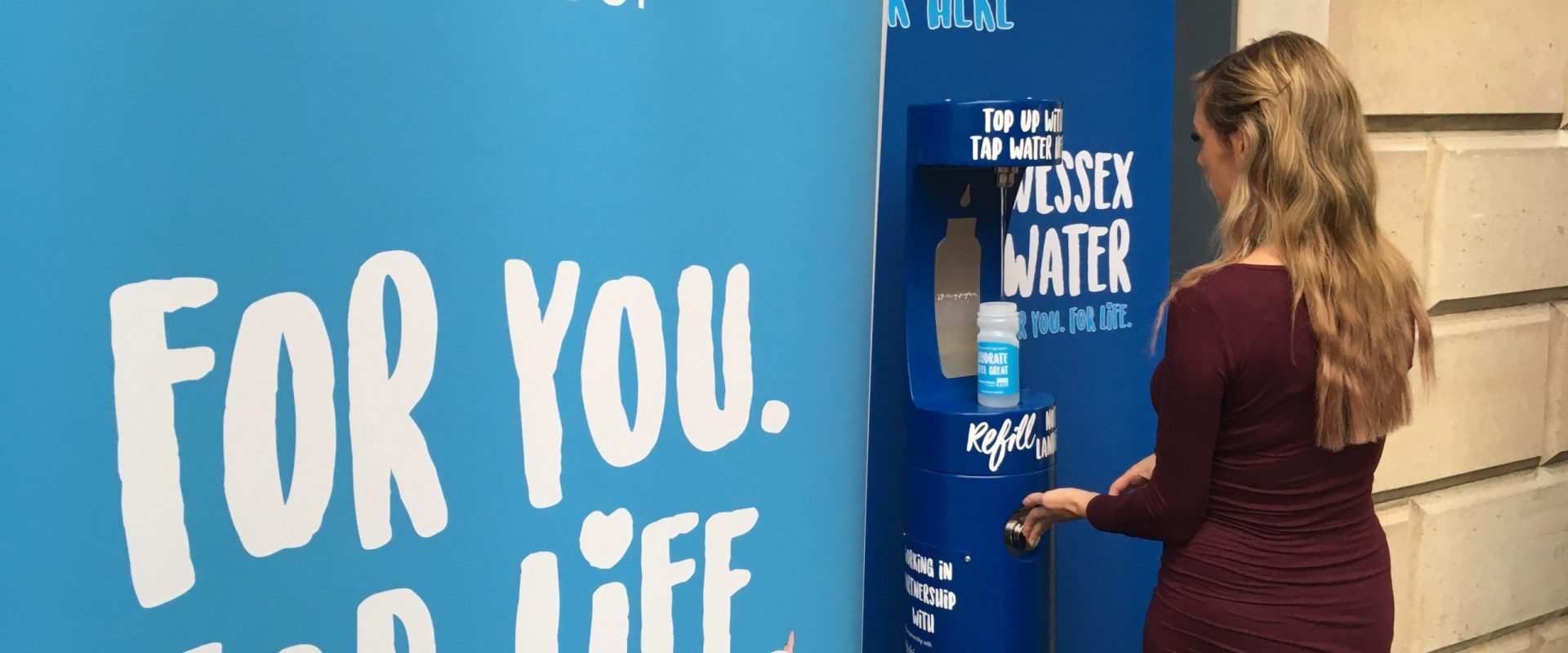 12th Dec 2019 by MIW Water Coolers
Wiltshire Free Drinking Water Scheme Underway with Wessex Water and Wiltshire Council
Every so often we hear on the news stories of 'pupil power'. Some inspiring tale of how an enterprising youngster has spotted a need for change and done everything they can to make it happen. Well, just recently, MIW had the pleasure of seeing one such youngster in action.
10-year-old Rosie from The Salisbury Cathedral School decided that her city wasn't doing enough to help tackle the waste plastic problem. She started a campaign, which she thought had ended when Wessex Water installed an outdoor drinking fountain and bottle refill station in Salisbury Market Square. But that was just the beginning…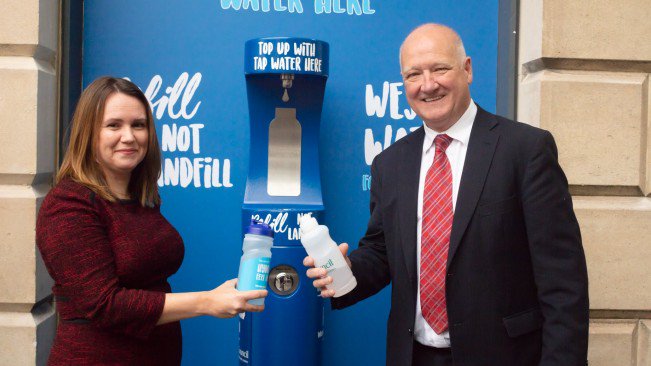 Rosie's campaign led to an exciting collaboration between Wessex Water and Wiltshire Council, resulting in a project to deliver free public drinking water across the county. Naturally, they called on MIW to help.
Bringing Free Drinking Water to Wiltshire
The Wiltshire Council/Wessex Water collaboration is part of a wider scheme to help reduce the amount of single-use plastic being used across the county. The two organisations have been pursuing this agenda separately for some time, with campaigns such as Refill Not Landfill. By uniting, they've been able to pool their resources – in terms of time, talent and money – and the result has the potential to be culture-changing.
MIW's role in all of this has been advising upon sites and equipment and managing the installations. As you might imagine, this is set to be a long-term project. It will involve many different sites. And it will take time. But on October 9th, 2019, the first official bottle filler of the scheme moved into its new home. And that home was County Hall in Trowbridge.
The Trowbridge bottle filler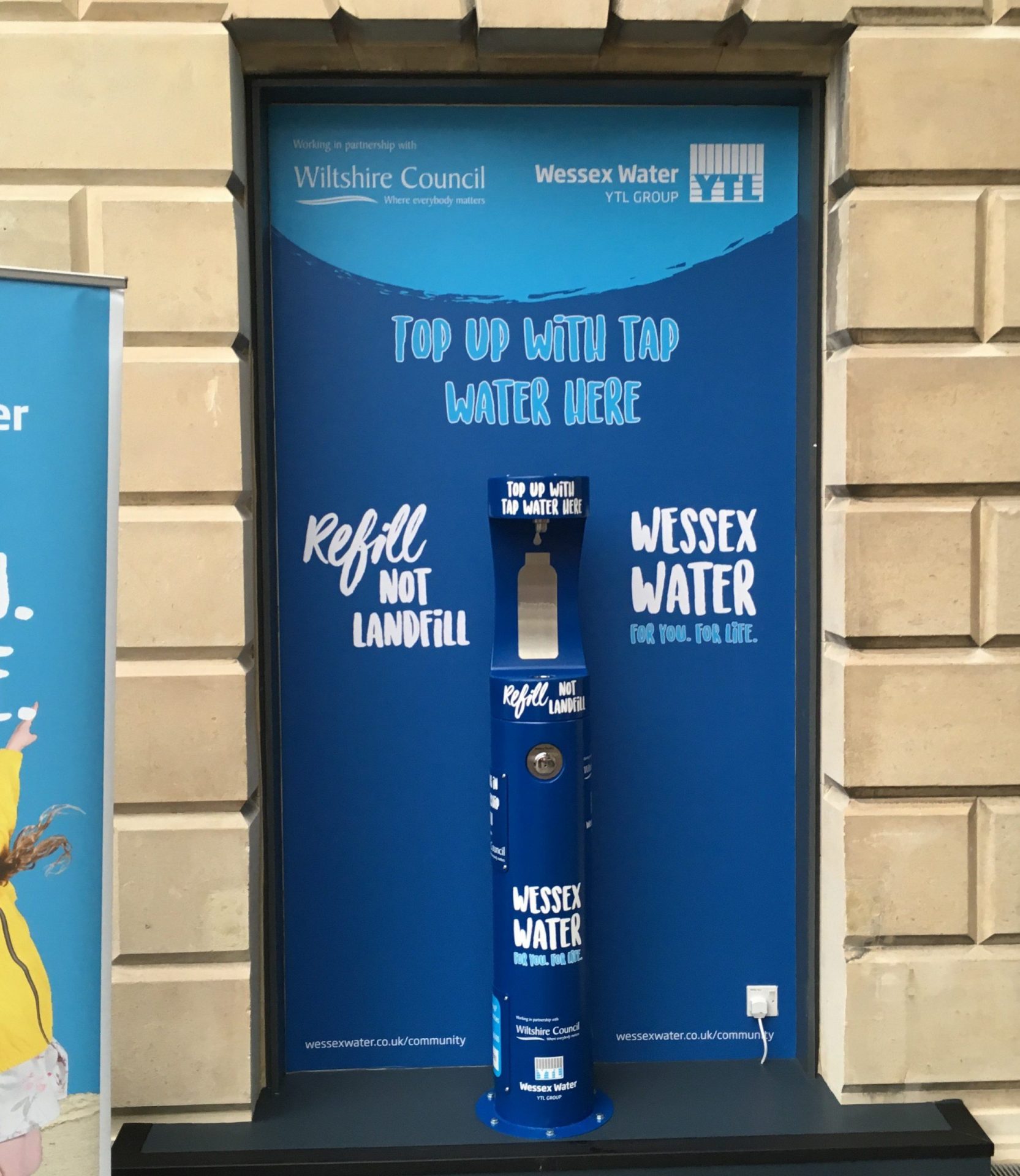 Open to the public, visitors to Wiltshire Council and employees, Trowbridge County Hall is busy. More than 4,500 people work for the council – not including school employees – and a good percentage are either based in Trowbridge County Hall or visit it regularly. And the Council's employees certainly don't work in isolation. So, any water dispenser installed on site needed to be able to cope with potentially high usage.
As expected with any public-facing dispenser, it also needed to be safe and hygienic, durable, easy to use and vandal resistant.
The Halsey Taylor 4400BF Endura II Tubular Outdoor Bottle Filling Station fit the bill completely. WRAS-approved, it meets all Government and water authority guidelines, guaranteeing that it is fit for public use. The hard-wearing stainless-steel body is super-tough, while security screwed panels mean that it is nigh-on impossible to tamper with. And to use, you merely have to place your bottle under the faucet and press the release button – it couldn't be simpler. It answers all of Trowbridge's requirements perfectly. And will soon be joined by other bottle fillers across the county.
The first of many
As well as joining the fight to reduce waste plastic, the alliance between Wessex Water and Wiltshire Council is a drive to improve public health (Hydrate Feel Great). By making free water widely available to the public, it is hoped that people will move away from spending money on fizzy drinks when out and about. Reducing their sugar intake at the same as reducing waste plastic.
The Trowbridge bottle filler was officially opened by Wiltshire Council Leader, Cllr Philip Whitehead, and Kirsty Scarlett, Wessex Water's Head of Community Engagement. Councillor Whitehead explained the thinking behind the installation and confirmed that it wasn't to be a one-hit wonder:
"This is a simple answer to helping people stay hydrated while avoiding single-use plastic bottles which create clutter and are bad for the environment. Visitors and staff can use this water station which is straight from the source…
It's great to be part of a project that has the potential to make so much difference. So, well done, Wessex Water. Well done, Wiltshire Council. And well done, Rosie, who started this whole enterprise off.
Wessex Water selected MIW Water Cooler Experts for this project thanks to our proven track record working with other water authorities. If your organisation is looking for more information before embarking on a similar project, contact the MIW team to find out how we can help.