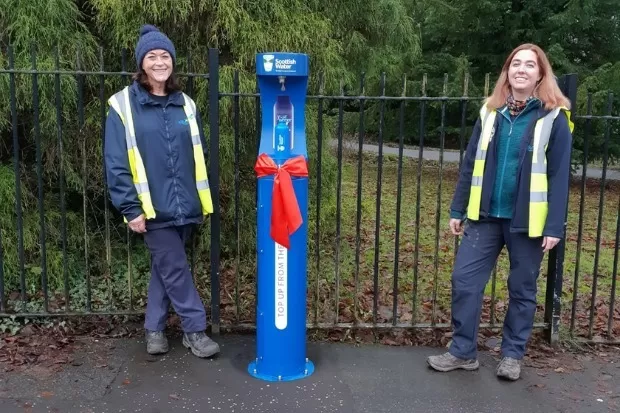 5th Mar 2021 by MIW Water Coolers
Glasgow Gains Two New Bottle Fillers as Scottish Water's Refill Campaign Continues
Scottish Water has been on a sustainability power drive during the course of the last two years. With the Your Water, Your Life campaign continuing to gain speed – global pandemic notwithstanding! – MIW has supplied two new Top Up Taps for the wonderful city of Glasgow.
Rouken Glen Park
Installed in mid-December 2020, Rouken Glen Park's Top Up Tap was the 31st bottle filler of the campaign. The 143-acre park is situated in Giffnock, 6 miles to the south of Glasgow centre, and was voted the UK's Best Park at the Fields in Trust annual awards in 2016.
With a history dating back almost 500 years, and a whole raft of visitor attractions, the park is both a tourist attraction and much beloved spot of local communities. The park receives hundreds of thousands of visitors every year. And now those visitors have one more facility at their disposal – a Wras Approved  Halsey Taylor Endura II water bottle refill station. Designed for hands-free use, it provides the perfect way to refill and stay hydrated on the go – pandemic or no pandemic.
Glasgow Botanic Gardens
Equally popular with the public, Glasgow's Botanical Gardens have to be among the city's leading attractions, with the glorious Kibble Palace and glasshouses featuring highly on many visitor's to-do lists. And it's now also home to Scottish Water's 33rd Top Up Tap.
Installed this February, the bottle filler has been put in place to help safely serve the increased number of visitors to the Botanic Gardens throughout the latest lockdown. And it's already attracted attention. Local BBC weather presenter, Judith Ralston, praised the refill point, declaring that it delivers, "… great-tasting water from good old Scottish rainwater made by our Scottish weather. What could be more perfect!"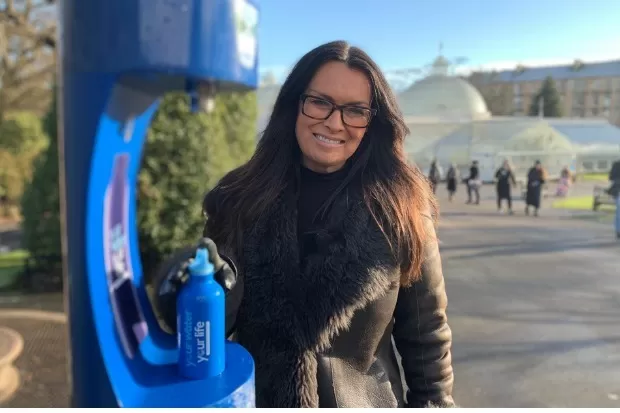 Scottish Water's bottle fillers
Customised by MIW, Glasgow's two new Halsey Taylor outdoor bottle fillers have advanced thermal protection to cope with the sometimes-extreme Scottish weather. With bespoke paintwork and messaging hand-finished by MIW, they are easily identifiable. And to ensure lasting durability, the marine-grade stainless steel bodies have been powder coated and lacquered to help with longevity.
The units require minimal maintenance. However, like Scottish Water's other Top Up Taps, the drinking fountains in Rouken Glen Park and Glasgow Botanic Gardens are subject to additional safety and cleaning measures as a precaution throughout the ongoing Covid-19 pandemic. A regular schedule of deep cleaning and disinfecting is underway to ensure user safety.
Scottish Water initiated the Your Water, Your Life campaign in a bid to reduce the volume of waste plastic drinks bottles produced throughout Scotland. Also, to help improve the nation's health, by making clean, fresh drinking water available to every one on the move. So far, the outdoor drinking fountains have been incredibly well received, with more than 120,000 bottles being refilled in the first year of the campaign. And 82,000 litres of water dispensed in the first two years. With many more bottle fillers still to come, the impact of this campaign is only going to grow.
Glasgow Botanic Gardens' new bottle filler is located near the Kibble Palace. And you can find Rouken Glen Park's new bottle filler on the main thoroughfare.
Find out more about MIW's work with other UK water authorities. Or get in touch to find out how MIW Water Cooler Experts could help your organisation go plastic bottle free.