4th Nov 2019 by MIW Water Coolers
TfL Bring Bottle Fillers to Brentwood
Opened in 1840, Brentwood is one of the UK's oldest rail stations. For the last 180 years it has worked almost without cease, carrying commuters into the city of London. It's seen two World Wars, 30 Prime Ministers (many holding the post multiple times) and enormous cultural change. It had existed for 80 years before women got the vote. In the year it was created, Queen Victoria married Prince Albert and Claude Monet was born. It's witnessed more than any of us can imagine. And now it's party to a more gentle but nonetheless significant social change: the refill revolution.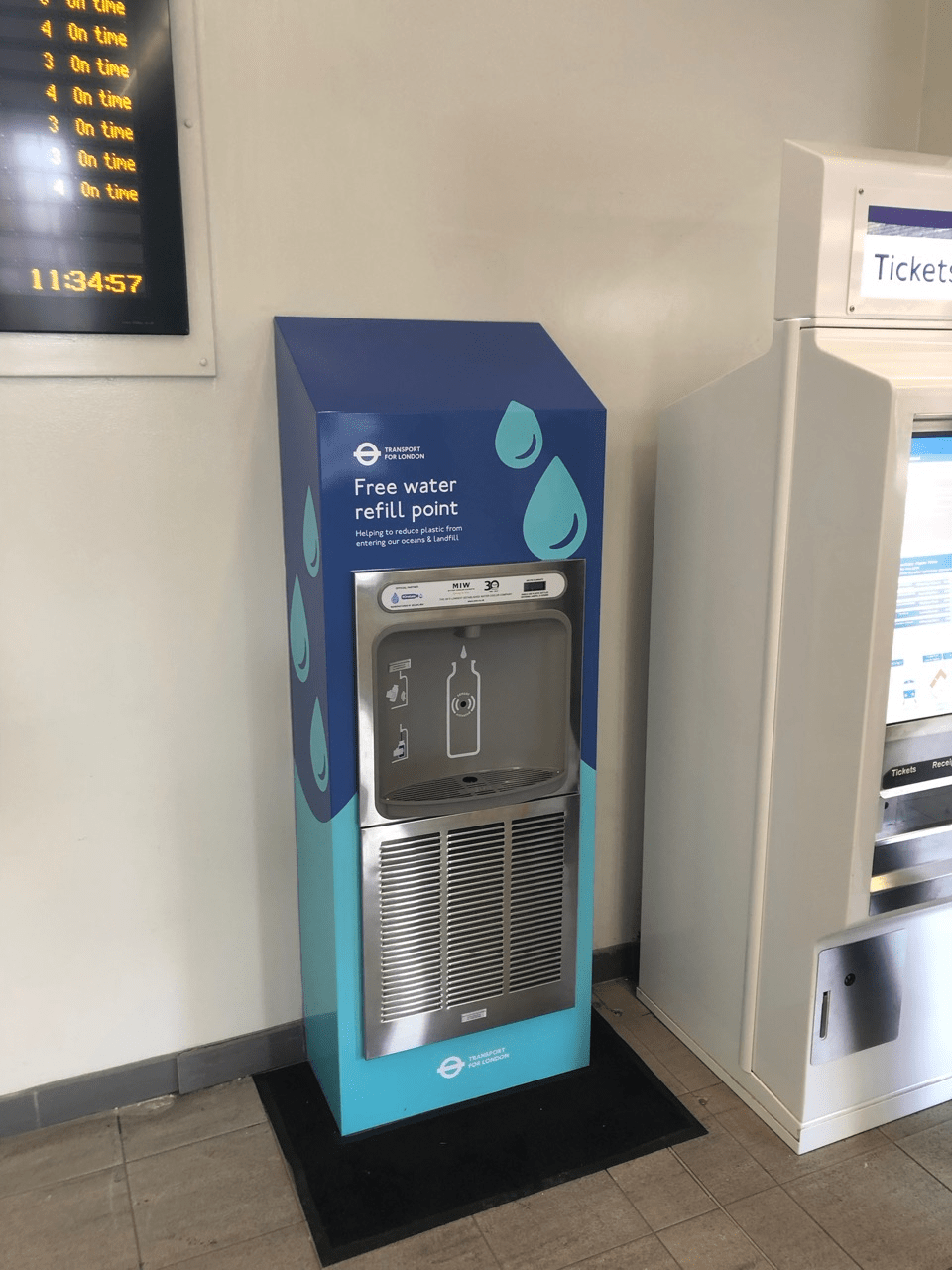 This autumn, Transport for London (TfL) continued their push towards a plastic bottle-free rail network, with the introduction of a cutting edge new bottle filler. Of course, they asked MIW to manage the project.
TfL and MIW
In 2018, TfL contacted MIW with a challenge. They were looking for ways to both reduce plastic drinks bottles across their rail network and to improve access to drinking water for passengers. With more than 400 stations under their management, they were very aware of the volume of waste plastic the company – and its passengers – was generating. And the extremely negative impact this could be having on the environment.
The brief for MIW was to work with TfL team to identify sites where drinking fountains and bottle fillers could be beneficial, recommend the best equipment for those sites, and to customise it with the company's colours, branding and messaging.
Since that time, we have installed customised water dispensers in several TfL stations. And now Brentwood has joined the number – with one of the most advanced bottle fillers around.
Brentwood's bottle fillers
The exciting thing about Brentwood Station's bottle filler is that it's one of the newest and most technically sophisticated water dispensers on the market. The Eco-Dispenser Max UV SuperChill has been developed to offer all of the standard features that people are coming to expect from public bottle fillers – ease of use, freshly filtered water, wheelchair accessibility, and vandal resistance – then takes things to a whole new level. Made from high grade stainless steel with no external moving parts and intelligent operation, the Eco-Dispenser is super-tough. WRAS-approval means that it's guaranteed safe.  New GreenSpec™ technology makes the Eco-Dispenser into one of the most energy efficient bottle fillers available, despite its capacity for rapid water chilling. Importantly for transport hubs, it's been designed to ensure that no suspect packages can be left in or on it. And, most impressively of all, it contains an inbuilt UV water sterilisation system, which removes 99.99% of all bacteria from the water. And that includes some of the real nasties, such as E. coli and legionella. It's a really impressive piece of kit. And now it's available to everyone who uses Brentwood station.
The Refill Revolution is Moving Further Up the Line
Transport hubs have the potential to make an enormous difference in the fight against waste plastic. People buy bottled water when they travel because it's the easiest way to stay hydrated. As more and more rail networks, airports and bus stations come on board and install free-to-use drinking facilities, the closer we get to the culture change that is needed to end the waste plastic problem for good. And the really good news is that TfL aren't the only rail network working towards a greener future.
Bottle fillers and drinking fountains are popping up in a growing number of rail stations throughout the country. MIW has been working with Network Rail, Greater Anglia, and Merseyrail, among others, for some time. We're also helping a number of the UK's largest airports to find their own plastic-free solutions.
Isn't it exciting to see change happening and to know that you can be a part of it? It's a bit like Brentwood and the role it played in the coming of the railways… And hopefully this movement will last just as long.
If you'd like more information on how to bring drinking fountains or bottle fillers to your transport organisation, please contact the MIW team for expert advice.